Bird safe glass: an innovative 1st surface solution
Glass causes a major threat to birds due to its transparency and reflectivity. When vegetation is reflected in the glass, birds are not able to distinguish between a real tree and its image.
See how Walker Glass can help you to prevent birds from hitting windows.
How to stop birds
from hitting windows?
In order to stop bird window collisions on glass facades certain well researched* "rules of thumb" need to be adhered to – most notably the "2 by 4" rule: two inches or less of horizontal space or four inches or less of vertical space should be left untreated. Research has also confirmed that visual markers are more effective for birds when they are on the outside surface of the glass, giving birds a greater chance to identify the surface from all angles and in varied weather conditions. Many regulations that are put in place today refer to the 2×4 rule and to this first surface treatment.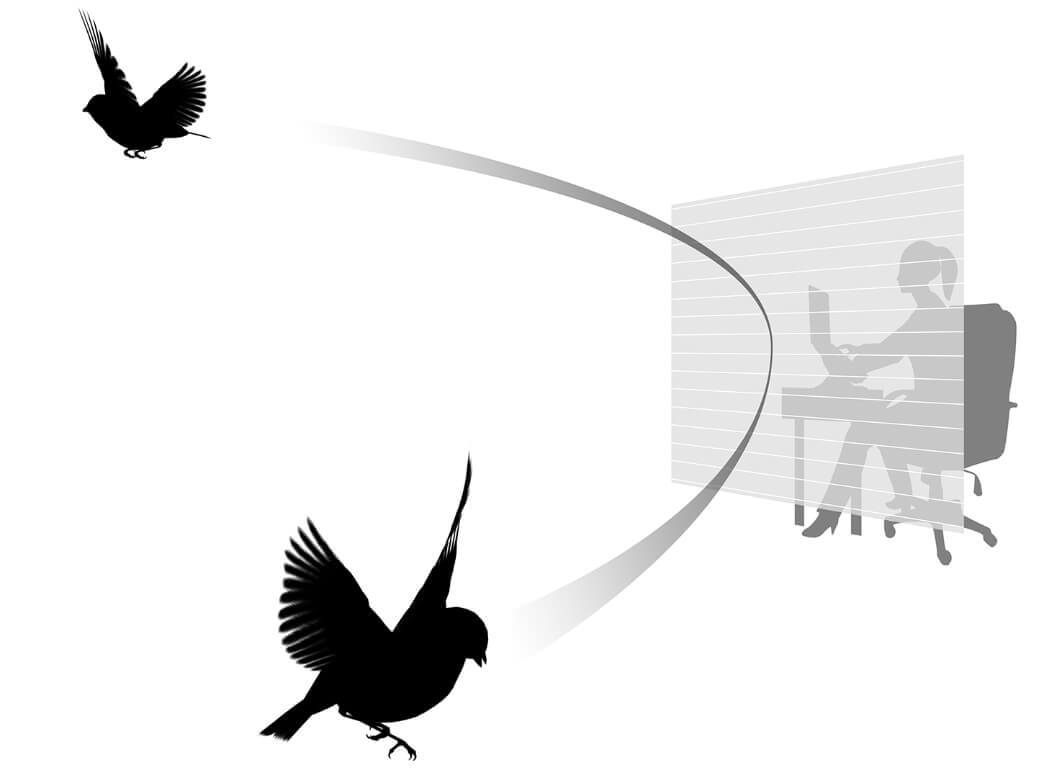 * The above design parameters are supported by the leading research scientists in the field such as Dr. Daniel Klem.
Bird Friendly Glass
Products
AviProtek®




1st Surface Solution
AviProtek® is Walker's bird friendly glass solution with the acid-etched designs on the number 1 surface of the glass. Etched patterns are located on the outside (1st) surface which provides the greatest chance for birds to identify the glazing surface and avoid collision.
The AviProtek® E bird friendly glass solution combines acid-etched visual markers on the 1st surface with Vitro's Solarban® high performance low-e on the 2nd surface, creating the most effective bird friendly glazing solution while saving energy at the same time!
Walker has partnered with Pilkington to offer AviProtek® T, a highly effective yet discrete bird friendly glass solution using Pilkington NA's pyrolytic coated glass. Walker Glass etches patterned contrasts on the pyrolytic coated outside surface that are visible to birds but barely perceptible to humans.
The Effectiveness of AviProtek® Bird-Friendly Glass
The reports we receive from staff and occupants of bird-friendly projects are unanimous: AviProtek® patterns drastically reduce bird strikes, or eliminate them altogether.
See for yourself: The effectiveness of AviProtek® bird-friendly glass.
Frequently asked questions about bird-safe glass
What is bird safe glass?
Bird safe glass or bird friendly glass has a pattern or design on the glass itself. Since glass is invisible to birds, the pattern is there to alert them of the solid barrier.  This pattern or design is ideally on the exterior surface of the glass and is know as visual markers.
How does bird safe glass work?
Bird-safe glass works by transforming window glass into a barrier that birds will see and avoid. Glass that can be considered safe for birds has patterns (visual markers) across the entire surface to mute or distort the reflections of surrounding elements. The patterning can be made from various design elements. Often the visual markers will follow what is known as the "2×4 rule", but the closer the pattern elements are to each other, the more protection the pattern will provide to birds.
How many birds are killed by colliding into windows?
According to leading scientists up to 1 billion birds are killed every year due to colliding into windows.  Dr Daniel Klem who has been studying this phenomenon for more than four decades, shares his experience and knowledge on the subject in his white paper titled "The building industry and bird conservation".
What do birds see when they look at building glass?
Glass is a major threat to birds as it is invisible to them. Birds are deceived by the "transparency" and "reflectivity" properties of glass and that is the main reason why so many birds are killed. Birds are trying to reach vegetation or the sky which are either located on the other side of the glass structure or reflected on its surface.  There are ways to reduce the number of collisions by creating a pattern on the first surface of the glass. The testing methods and the discovery of the 2×4 rule are discussed in the "Technical design of bird friendly glass" document.
Are bird collisions happening only during migration?
Contrary to popular belief, bird collisions are not just a problem during migratory periods… but all year round! During migration the volume of birds increases by about 40% depending on the region. Therefore, twice a year, more collisions occur but the issue still remains all year long. Something can be done to significantly reduce the number of collisions. Many bird safe glass products exist, however, the most effective solutions are those that have visual markers (patterns) on the exterior surface of the window.
Do tall buildings affect birds' behavior?
Birds are attracted to light. Tall buildings reflect light, and/or are lit up at night, which attracts them to areas where they would not naturally want to be. Once they are at ground level, they are in great danger as they cannot see glass and will potentially fly directly into windows where they are either injured or killed. There are legislation measures that exist to help prevent birds from colliding into glass buildings and more details can be found in "Legislative measures". The city of Toronto, was the first to incorporate bird-friendly guidelines into its green building standard.
What are the bird deterrence legislations in North America?
Bird deterrence legislations in North America are mostly driven by local authorities at the state, provincial or city level. Some of the best-known rulings in United States are the Standards for Bird-Safe Buildings in San Francisco, and of course the New York City Local Law 15. In January 2022, Illinois introduced its own Bird-Safe Buildings Act.
In Canada, CSA A460 provides a national standard. At the municipal level, the regulations found in the "Bird Collision Deterrence" section of the Toronto Green Standard (TGS) are an important influence on mandatory bird friendly rules. The city of Ottawa introduced their own set of Bird Safe Design Guidelines in 2020.
The glass industry established its position on bird friendly glazing with the National Glass Association's publication of their updated Bird Friendly Design Guide, which supports the prescriptive approach to bird deterrent markers (2×4 rule). This method has proven to be reliable and effective in reducing the number of bird collisions against glass.
The number of cities adopting bird safe laws is growing rapidly. We suggest that you communicate with local authorities to see which ones are most relevant to your projects. You can also reach out your local Walker Glass Architectural Manager to assist you in finding the right bird friendly glass legislation.
What is bird frit?
The term "bird frit" is being used in the building industry in reference to bird-friendly glass, also known as bird-safe glass. Frit is a ceramic paint that is baked onto the surface of glass. This is a commonly-used process in the glass industry.
Bird-safe glass, or bird-friendly glass, uses patterns on the glass' surface to deter bird strikes. For a bird-safe product to be effective, the patterns must be visible to birds. There are many ways to create patterns on glass, including the use of acid-etched markers. For instance, the AviProtek® line of bird-friendly glass from Walker uses acid-etched patterning to deter bird strikes.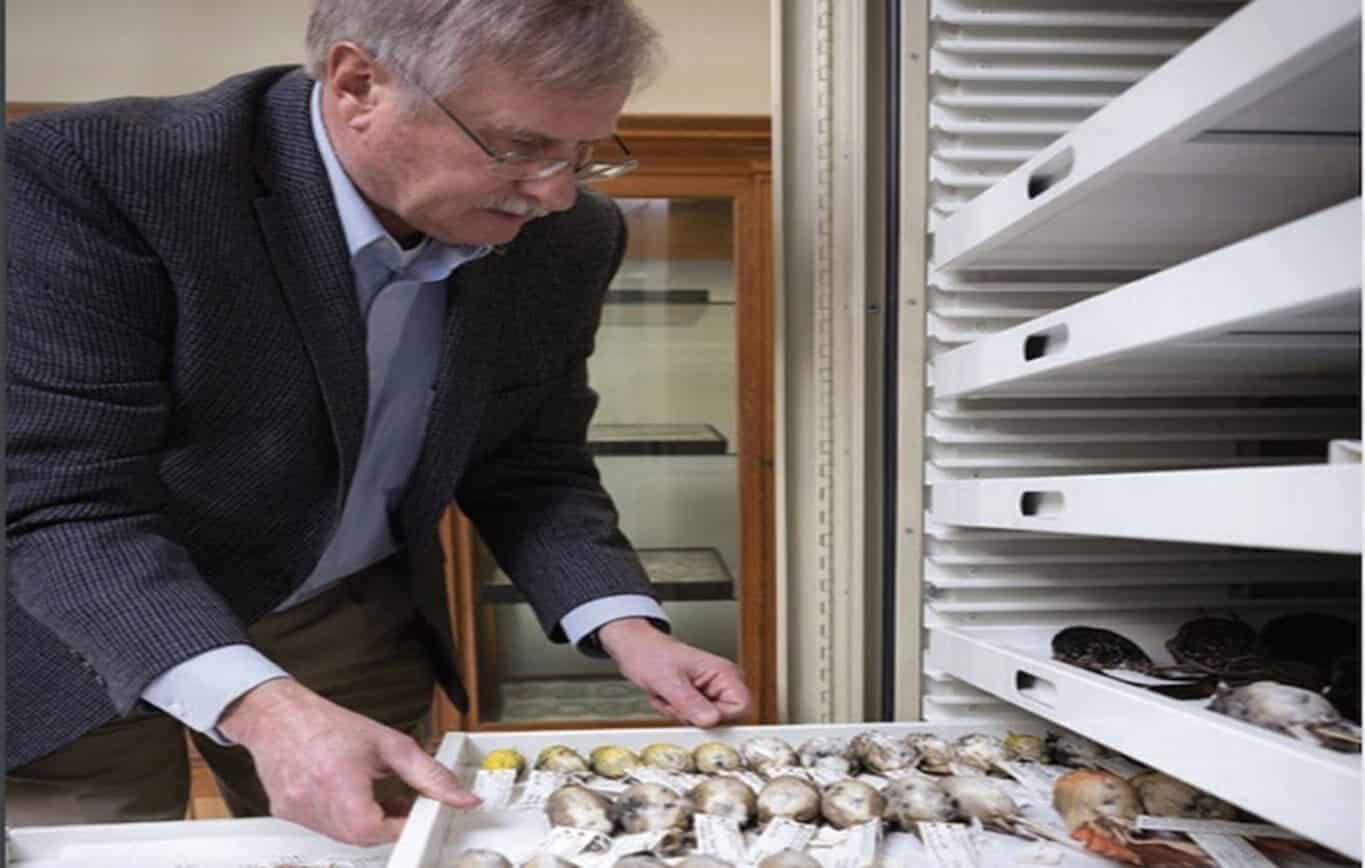 The Origins of Bird-Friendly Glass
Bird collisions with glass are as old as the product itself (according to historical data, it was likely made as early as 290 C.E.). But until the late 1900s, no efforts were made to reduce the incidence of often-deadly strikes on a large scale.
Four Questions (and Answers) About Tinted Glass in Bird-Safe Applications
Lately, we've been getting questions about tinted glass in bird-safe windows and other glazing applications. For instance, are tinted windows better for birds?
Integrated Solutions and Bird-Friendly Glass at USask
State-of-the-art science with a Gothic twist
When Flad Architects took on the University of Saskatchewan's Collaborative Science Research Building (CSRB) in 2018, they knew they were in for a challenge.
Bird Safe Glass Explained – The Video Series
Bird safe windows solutions
Walker Glass is embarking on an educational journey to help highlight the importance of bird-safe building practices. This video series called "Bird Safe Glass Explained" was developed in collaboration with Dr. Daniel Klem, Jr., renowned ornithologist and professor of biology at Muhlenberg College in Allentown, Pennsylvania.
In this series, we will go through multiple facets of the bird deterrence issue that has plagued architects and building professionals for years. Each episode focuses on specific aspects of the phenomenon, from the causes of bird-window collisions, to potential solutions and what has already been done to help reduce the frequency of bird strikes. Fortunately, solutions exist to transform a window into a barrier that birds can see and avoid. These bird safe glass options make it possible to preserve the aesthetics of the transparency of glass while protecting birds.
More information on bird safe windows
Dr. Daniel Klem, professor of ornithology and conservation biology at the Muhlenberg College has dedicated his professional life to studying bird deterrence. Below you will find documents authored by Dr. Klem about bird safe glass. This material will provide you with a solid understanding of this deadly phenomenon.
A background paper targeting architects that explains various architectural design
considerations when planning for bird friendly design. Download
The current and prospective legislation across North America, as well as the trend of including bird-friendly design in buildings for reasons of sustainable development. Download
The purpose of this paper is to provide guidance in creating bird safe glass, and the appropriate test methods needed to evaluate the design of bird friendly glass. Download
AviProtek® T
Transparent Bird Friendly Glass
AviProtek T is an innovative first surface solution that is barely noticeable to the human eye, yet visible to birds.
Communicate with our Experts
Please feel free to get in touch should you have any questions!