Mirrors don't just add a decorative accent to homes, offices, restaurants, and hotels. They can also be used for enhanced daylighting, with mirrors reflecting and diffusing natural light in a myriad of ways.
Under current energy codes and standards, daylight optimization is transitioning from a nice-to-have feature to an absolute requirement. The value proposition for daylight optimization is fairly simple: as daylight levels increase in a space, electric light levels can automatically decrease to maintain a target light levels and save energy.
Here are some examples of how to increase natural sunlight with mirrors:
Focus on areas where the light naturally strikes
Assess natural light changes throughout the day and seasons
Use mirrors somewhere in or near spaces with substantial natural light
Walker Glass mirror solutions
Are you interested in enhanced daylighting with mirrors? We invite your to explore our wide range of mirror and acid-etched mirror products.
The benefits of mirror for daylighting in interiors
Mirrors can be used to increase daylight penetration into a space and maximize daylight harvesting to reduce the need for artificial light. This is great for those who work in an office, as many studies have shown that natural light enhances people's mood and behaviour. Mirrors can reflect sunlight into poorly lit spaces, solving the problem and helping to save energy at the same time.
Strategically tilted mirrors can provide a large amount of natural light by reflecting sunlight around a space, making the interior look brighter and larger. As most interior designers know, mirrors make a room look bigger by reflecting a large portion of the other side of the room. Increased daylight further enhances this effect. This makes adding a mirror to a small office or home entrance a winning combination!
Sustainable décor
Walker Glass offers EPD and HPD® for all our mirror options, so architects can be confident in their choice when the specify Walker mirror. For a copy of EPD and HPD® documentation on any Walker Glass products, please contact your local architectural manager or download Environmental Data Sheets here.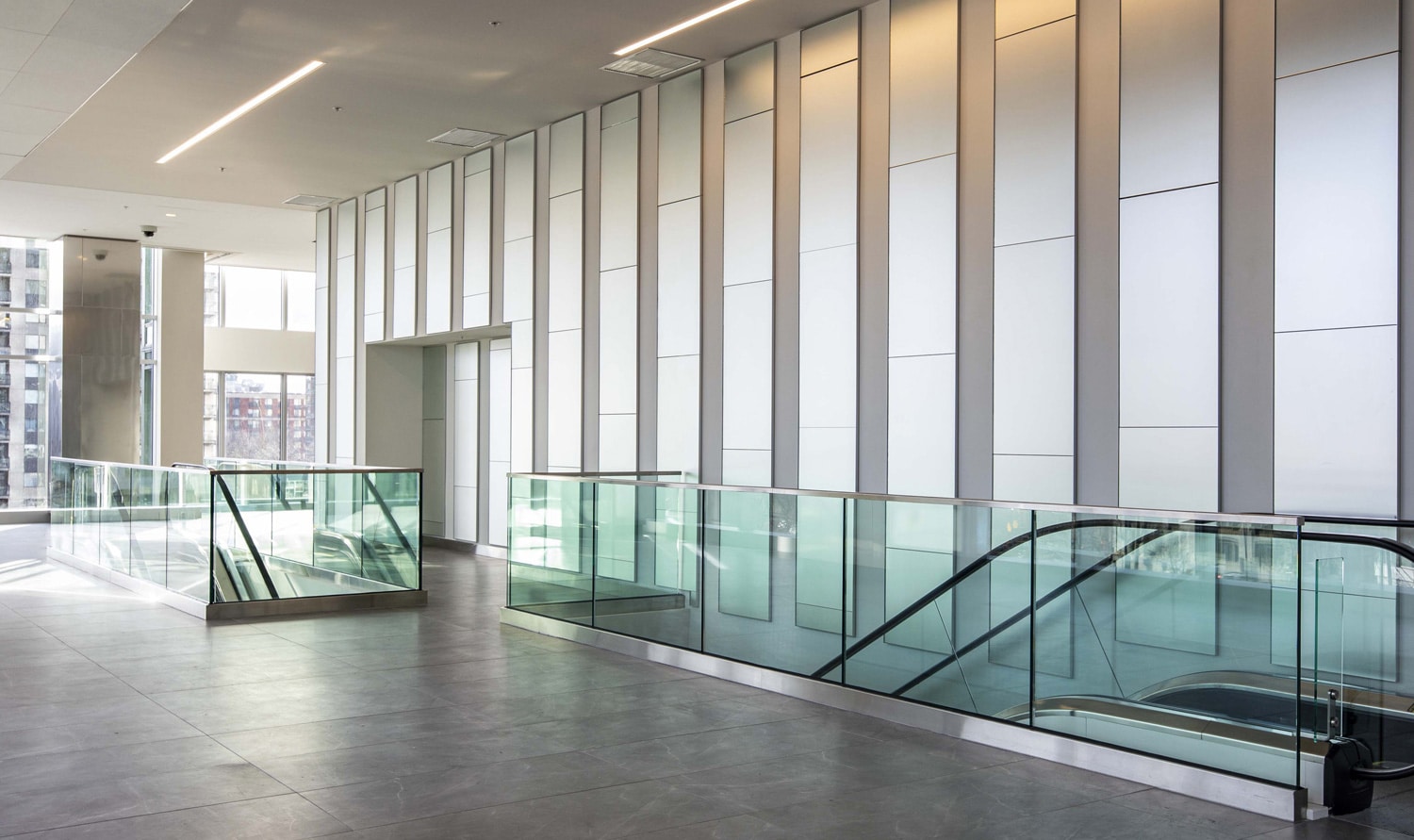 Acid-etched low-iron mirrors diffuse light through the interior of the TDC2 tower in Montreal, softening daylight and bringing natural light into the building's corners.
How to use mirrors to reflect sunlight into dark spaces
Using multiple mirrors in harmony can increase light reflection and dramatically improve natural daylighting, especially in dark rooms. To use this approach successfully, first determine where light is directed by the first mirror. Next, position a second mirror to catch and reflect the same beam of light. For instance, placing a pair of mirrors adjacent to a window is often a great approach.
Furthermore, mirrors can be used to capture often-neglected sources of natural light such as skylights and light wells. They may also reflect ambient light to add a gentle glow in a given space. Acid-etched mirrors are a particularly good choice to enhance daylighting in a soft and subtle way. They are perfect for absorbing and keeping light in a selected area of a space, and diffusing it for better visual comfort.
Mirrors and acid-etched mirrors can be used in countless applications such as doors, shelves, furniture components, decorative accents, wall cladding, sliding walls, rear projection screens, free standing structures and many more!