"Two-faced" … not something most of us would want to be called. But when we're talking about glass in architecture, being two-faced is actually pretty trendy! Adding a second etched surface can take buildings from standard to spectacular, and give architects an additional tool to realize their visions. Beyond that, the extra level of opacity can maximize privacy and daylighting where it matters most. In this article, we'll look at some projects that show off what double-sided acid-etched glass can do. We'll also give you a handy checklist of best practices to remember for architecture and interior design using acid-etched glass.
What is double-sided acid-etched glass?
Double-sided etch, or two-faced etch, means subjecting both faces of a pane of glass to an etching process. In the case of Walker Textures® acid-etched glass, that means exposing each flat surface in turn to an acid-etching process. The result is a "sandwich" of textures: etched on one side, clear substrate in the middle, and then etched again on the second surface. The four narrow edges are left untreated. If you want, you can combine two or more panes of two-faced etched glass for a more dramatic effect.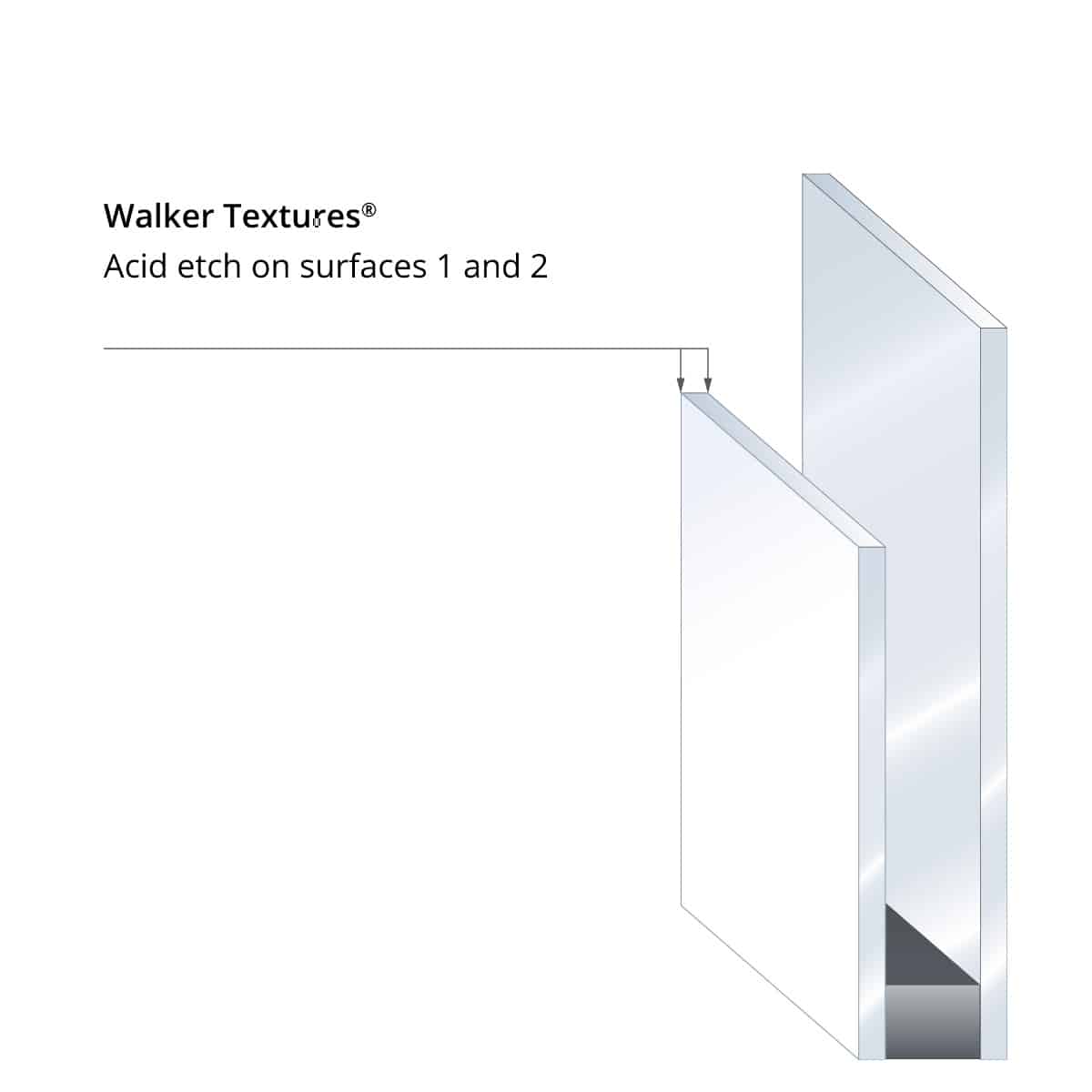 Why use double-sided etched glass?
Apart from the aesthetic impact, there are plenty of practical reasons to choose a two-faced etch.
Reducing glare
Adding a second (or third, or fourth) etched surface to a building's windows and skylights can improve daylighting dramatically, easing the visual discomfort caused by glare. It's important to note that, even as etched glass reduces glare and harsh sunlight, it still delivers high visible light transmittance. This property makes double-sided etched glass a great candidate for skylights and other important sources of natural light.
Adding privacy
While transparency has been instrumental in the popularity of glass in architecture, that doesn't mean we always want to see through it. Railings, in particular, can benefit from a bit of opacity while still allowing daylight to pass through. So can interior dividers, especially if they have the potential to affect the lighting inside a building. For this reason, you'll often see etched glass in stair rails, balcony walls, and office partitions. Since double-sided etched is typically more opaque than single-sided etched glass, it's particularly apt for any context where privacy is a consideration.
Looking good from both sides
Having two identical surfaces makes double-sided etched glass ideal for applications where both sides of the glass are on display. Think of railings, partitions, interior walls, and anywhere else you'd want the two sides of the glass to match.
Impression of depth
Like other semi-opaque and transparent materials, double-sided acid-etched glass has to be taken in context. Two-faced etched glass can give intriguing impressions of depth when placed in front of other elements like daylight features, textural walls, and interactive elements.
Best practices for designing with double-sided acid-etched glass
Double-sided etched glass can be a powerful design tool with many practical benefits. As with anything, though, there are some considerations to keep in mind when using this material. Here's your checklist to make sure you get the best results from two-faced acid-etched glass.
1. Pick one etched finish and use it throughout the project.
The difference between acid-etched finishes can be subtle, and panes can be inadvertently reversed or mis-positioned during installation. If you use one choice of finish throughout a project, your installation team won't have to worry about which surface should be facing outward and your whole installation process will go more smoothly. This can save you time, money, and stress!
2. Select the right finish for your design
The finish you choose will affect the overall look of your building. An Opaque finish, as its name suggests, creates the highest level of opacity. Velour, our most popular etched finish, offers a medium level of opacity while a Satin finish yields a more subtle effect with a hint of reflectivity. With these three finishes to choose from, you'll be sure to find the right solution for your project. The finish you choose is up to you – just make sure to use the same one throughout the project!
3. Consider where you'll place other glass treatments, if any.
If your project used a low-e coating, for example, you'll have to decide whether you can place that coating on surface three of your insulated units and still meet your energy performance targets. If you need the low-e on the second surface, you may be better off shifting the double-face etched glass to an interior lite. Double-sided etch can be ideal for non-insulated applications including partitions, railings, and spandrel.
4. Show off the purity of low-iron glass
Double-side acid-etched glass is uniquely qualified to highlight a substrate like low-iron glass. The two etched surfaces limit the reflection of surrounding colours, which lets the purity of the glass really shine. Use this combination to create a clean white look, or boost the drama by using a double-sided acid-etch on the first pane and colourful back-painting or laminates on the second. Want to see this combination in action? You can scroll down to see a selection of projects using double-sided acid-etched glass. 
Fabrication best practices: tips for handling double-sided acid-etched glass
There are some standard rules of thumb for working with acid-etched glass: keep your equipment and workspace clean, test your settings on a sample piece before cutting, and clean the glass after processing. The same rules apply to double-sided etched glass.
You can find more information and full handling details in our technical booklets for acid-etched glass.
Project highlights
We've talked about the technicalities of two-faced etched glass and best practices for using it, but what about some real-life examples? After all, seeing is believing. Here's a closer look at double-sided acid-etch glass compositions in buildings across North America. Click on the name of each site to discover more about the project and its glazing solutions.
As we've seen, being two-faced isn't a bad thing when you're talking about glass. Double-sided etched glass can help make a building better by reducing glare, adding privacy, lending visual depth, and strengthening the architect's creative vision. It can take many of the qualities of regular acid-etched glass, and give them an extra bit of va-va-voom.
Now that you know more about the double-sided acid-etched glass and best practices for using it, how will you incorporate it into your work? Will two-faced etched glass give your next project a radiant façade like NASA's Goddard Space Center, H&M's Toronto location, and the Will Rogers World Airport expansion? Or will you take advantage of the glass' extra opacity to give users privacy, as we've seen at the Tour des Canadiens and The REACH? Either way, two-sided acid-etched glass can help bring your vision to life.
Ready to explore the world of multi-surface etched glass? You can contact your Architectural Manager to discover the possibilities, or request a sample online.